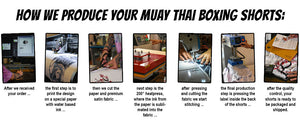 What are Muay Thai shorts called?
Muay Thai shorts
are known as "Sak Yant" shorts, reflecting the traditional art of sacred tattoos prevalent in Thai culture. These shorts are designed to optimize the fighters' performance with their unique characteristics. They feature high side slits that allow unrestricted leg movement, providing the fighter with the flexibility required for swift kicks, knees, and rapid footwork..
How to fit Muay Thai shorts?
Finding the right fit for Muay Thai shorts is essential to ensure maximum comfort and mobility during training or competitions. To get the perfect fit, follow these simple steps: Measure Your Waist: Use a measuring tape to determine your waist size accurately. Consult
Muay Thai Shorts Sizing Charts
: Different brands have their sizing charts, so refer to them while selecting the appropriate size. Consider Your Preference: Some fighters prefer a tighter fit, while others like a looser feel. Choose the style that suits you best.
Why are Thai shorts important?
Muay Thai shorts go beyond being mere sportswear; they hold a symbolic significance for fighters. These shorts often showcase unique designs and colors, representing the fighter's identity, gym, or even their country. Donning the right pair of shorts can instill confidence, set the right mindset, and ignite the warrior spirit within the fighter.
Can you wear compression shorts under Muay Thai shorts?
Yes, wearing compression shorts under Muay Thai shorts is a common practice among practitioners. Compression shorts provide essential support to the muscles, reduce muscle vibrations, and aid in muscle recovery. Moreover, they keep everything in place during intense movements, ensuring a comfortable and distraction-free training session.
Conclusion:
In conclusion, Muay Thai shorts play a vital role in a fighter's performance and identity. With their unique design and functionality, they offer the necessary freedom of movement and comfort required for this high-impact sport. Remember to find the right fit and consider wearing compression shorts for added support during training or fights. Now that you are equipped with the knowledge about Muay Thai shorts, gear up with premium Muay Thai Shorts from
Muay Thai Shop
and unleash your true potential in the ring!
About us
We are the developer and manufacturer of all Muay Thai Shorts in this muay thai online shop - therefore we can guarantee you the best quality and best price!

My thai wife is a studied tailor and i, as a fastidious german :) put highest value on quality and workmanship. Together we LOVE to design and produce unique and extraordinary Muay Thai Boxing Shorts, MMA Shorts, Rash Guards, T-Shirts and Tank Tops - it's our passion!

🚫 No mass production! Every Thaiboxing Shorts and all other items are hand-made by ourselves straight after your order and ready to ship within 1 - 2 business days. We ship worldwide for only 14.90 US$ ( FREE shipping for orders over 100 US$) and the delivery time is normally 7 - 14 business days.
Our family business and in-house factory is located in the heart of Thailand where we use the newest sublimation technology and equipment nowadays. We constantly strive to improve our products, so you dont have to worry and can focus on your muay thai training.

THANK YOU for your trust and support!
Chok Dee and sunny greetings,
your Muay Thai Shop Family ♥
MUAY THAI SHOP NEWSLETTER
New Muay Thai Shorts, promotions and everything to be UpToDate ... directly to your inbox.