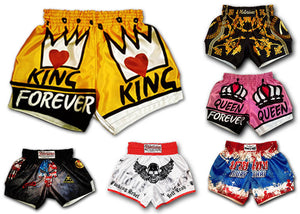 PREMIUM Muay Thai Boxing Shorts
We LOVE to design and produce unique and extraordinary Muay Thai Shorts - it's our passion! Step inside the ring with style and knockout your opponent before the first blow with the most beautiful Muay Thai Shorts ... Hand-Made in Thailand.
Whether you are a beginner or a professional muay thai fighter and take part in competitions. Our high quality Muay Thai Shorts are the perfect partner for your Muay Thai training.
Our Muay Thai Boxing Shorts are of course perfect for muay thai, but you can also use them for boxing, kickboxing, karate, kung fu or any other martial arts. And don't forget fitness, running, yoga or going to the beach and swim in the sea, because they are ultra light and dry super fast.
NO mass product - NO wholesale! Because every single Muay Thai Shorts in this shop is handmade and our worker get an above-average income. And since we produce all shorts in our in-house factory, we can guarentee you the BEST QUALITY! We are very proud if you wearing our Muay Thai Shorts and seeing you satisfied is our motivation.
At www.Muay-Thai.shop you find the finest collection of PREMIUM Muay Thai Shorts.
#muaythaishop #muaythaishorts #muaythai
---
2 comments